The Team at Smiles Unlimited
Dentist | FICCDE
Dr Nabil Matti
Dr Nabil Matti is passionate about his patients and about sharing his dental knowledge with them. He believes in the concept that having a healthy mouth can have a significant positive impact on your overall health and wellbeing. He also stands by the belief that everyone in the community should be able to have access to good dentistry regardless of their circumstances. He has a great interest in all areas of dentistry with a particular interest in implant dentistry, reconstructive dentistry and cosmetic dentistry, and giving his clients the smile they've always wanted. Dr Matti is committed to always providing the highest standard of care, combined with his warm and gentle manner. Dr Matti continues to keep up to date with the latest advances in Dentistry with regular attendance at courses and seminars. He is an active member of the Australian Dental Association, a diplomat of the American Dental Implant Association, and holds many other internationally recognised qualifications. He is also currently studying to receive his Masters in Implantology from Johann Wolfgang Goethe University, Germany.
Dentist
Dr Lina Carillo
Dr. Lina Carrillo has been a member of the Smiles Unlimited team for 5 years She decided to become a dentist 19 years ago because she wanted to assist others to improve their wellbeing. Lina is interested in all parts of dentistry, but especially orthodontics and oral myology. She enjoys witnessing her orthodontic patients' final treatment outcomes and seeing them leave with smiling results. Lina is a hardworking mother of two children who enjoys reading on her occasional days off. Gardening, knitting, reading and spending quality time with her family are among Dr Lina's favourite pastimes.
Dentist
Dr Matthew Said
Dr Matthew has proven to be a pillar of the Smiles Family for 3 years. He has been working as a Dentist since 2016, and also has previous experience in the oral health industry as a Dental Assistant. When Matthew was younger, he loved to visit his dentist, Dr Nabil Matti! He was drawn to dentistry through his fascination with all things science and technology, but he also loves to help his patients to feel confident about their mouths. He has since
Dentist
Dr Diana Arcila
Dr Diana Arcila has extensive training in Periodontics ,both Nationally and Internationally .
She is a firm believer in prevention rather that cure.
She is very passionate about early detection of gum diseases and management rather than late intervention .She has a special interest in cosmetic gum treatments .
Outside of that she is a devoted mum , who spends time cooking and travelling with her beautiful family. She spends a long time with every and each client to understand the roots of the problems then advises them how to treat and prevent thee problem from re occuring .
Oral Health Therapist
Ms. Mirna Yousif O.H.T.
Mirna Practice Manager & Senior Oral Health Therapist, but brings with her a wealth of experience. She has been working as a Dental Assistant for the past 7 years, and has recently graduated as an Oral Health Therapist. Her interest in the oral health industry has stemmed from her wish to contribute to the health and wellbeing of the community. She loves working with children to build their confidence when in the dental chair. She also loves educating patients of all ages about ways to improve their oral health. On her days off, Mirna catches up with appointments and errands, spends time with her family and furthers her oral health education by reading dental texts and watching dental education videos.
Oral Health Therapist
Ms. Zara Al-Wadee O.H.T.
Zara graduated as an Oral Health Therapist from Sydney Uni in 2014. Her first position was with Smiles Unlimited, and she has been single-handedly responsible for setting up their successful Hygiene/Therapy department. In September 2018, she completed her Adult Scope studies at Sydney University. Zara loves the challenge of applying what she has learned in her studies, and the attention to detail that her job demands. Zara is able to transform an anxious patient, to someone who is comfortable and relaxed whilst receiving their regular dental treatment. A rare day off will see Zara going to the movies, and looking for interesting new places to dine out. She also uses this time to undertake her continuing studies in Medical Science and Research.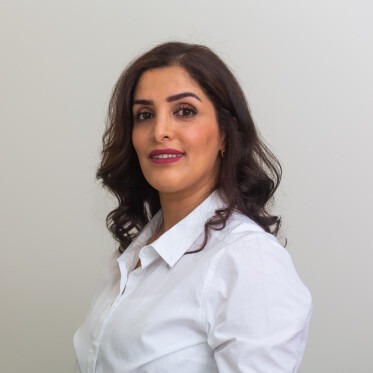 Dental Assistant
Meiada Braka
Meiada has worked for Smiles Unlimited since 2018. This is her first job in the dental field, and she's taken to it like a duck to water. Meiada enjoys every element of her job. She enjoys assisting patients in maintaining their dental health, teaching young kids how to take care of their smiles, helping to facilitate smile transformations, and seeing patients leave with grins on their faces. She spends time with her children on her days off, as well as tea and coffee time with her mother and sister.
Dental Assistant & Front Desk Coordinator
Seror Dawood
Seror has been working at Smiles Unlimited since 2019. She has exhibited efficiency in being a quick learner, always willing to take on new skills and carry the load where needed. Seror has two years of experience as a dental assistant and two as a front office coordinator and is very skilled in her lab work. In her spare time, she enjoys going to the gym, playing tennis, and spending some time with her puppy, Junior.
Dental Assistant
Riva
Riva is a responsible Dental Assistant who joined the Smiles family two years ago. She is very motivated in what she does, demonstrating efficiency and pride in all her work. On her work-free days, Riva likes to spend time with family and shopping for the latest fashions. Riva is renowned in the clinic for bringing in pots of tasty food for all the staff.
Dental Assistant
Venesea
Venesea is our very reliable Dental Assistant. She joined the Smiles Family two years ago and has proven to be a great addition to the team! She has recently conveyed a great interest in orthodontics and has been lending a helpful hand in the area whenever she gets the chance. When not at work, Venesea enjoys spending her time drawing new artworks and spending time with her sisters.
Dental Assistant
Florensa
Florensa is a dedicated Dental Assistant who has proven to be a fast learner as the newest addition to the Smiles team. In her spare time, she loves to spend time with her family and takes part in competitive sporting activities.
Front Office Coordinator
Joy
Joy is the youngest receptionist at both the Smiles clinics. Her favourite part of the job is witnessing the smiling patients as they walk out of the Practice with the smile of their dreams. She has been dubbed the "babysitter" of the clinic as you can often see her colouring with the kids and singing Frozen songs. In her free time, she loves to discover new places with friends and family, and read her novels.
Administrative Assistant
Rita
Rita is the youngest and newest member of the Smiles Unlimited team, joining only this year but she is proving to be a very quick learner! She likes to spend her free time watching TV shows and cooking new recipes. She demonstrated a natural talent for technology and as such, has been our go-to person when we are presented with printer jams.
Senior Front Office Coordinator
May
May is our very responsible Front Office Manager who joined the Smiles family three years ago. May likes to spend her time watching TV and exploring new landmarks all around the world. May always make sure that all the administrative work is being achieved swiftly and precisely. Everyone in the office loves her as she treats the whole team to the best coffees!
Dental Assistant
Fabronya
Fabronya is one of the newest additions to the Smiles family but has proven to be a real team player! She is always reliable, keen to learn new skills, and always asks questions pertaining to everything dentistry. She likes to cook in her free time and otherwise spends her free time reading or with her family.
Dental Assistant
Lida
Lida is a trustworthy Dental Assistant who joined Smiles Unlimited in 2020. She is highly driven in her job, exhibiting efficiency and pride in all she does. She enjoys spending time with her three children and hosting parties on her days off from work where she displays her most delicious food. Lida is known around the clinic for making everyone laugh with her quick wit.
Dental Assistant
Radleen
Radleen is a responsible dental assistant who has been with Smiles Unlimited since 2020. Radleen is an extremely hard worker and caring to all patients and her team. She enjoys every element of her job, especially enjoying assisting patients and young children who come in for routine check-ups and orthodontic work. On her days off, she enjoys sharing her make-up skills with her friends, often offering free makeovers when the other girls have events while sipping a cup of Turkish coffee.
Dr Ola Zaidan
Dr Ola has worked in dentistry for 13 years. She has been welcomed as the newest member of the Smiles Unlimited family and has proven herself to be quite the asset at both practices. She enjoys working in all fields of the profession but has displayed a special interest in the area of Cosmetic Dentistry. Ola has exhibited a superpower for making all patients feel at ease when they are in the dental chair. She has successfully converted many anxious patients into regular clients at our Practices who always return with smiling faces. Dr Ola enjoys her artistic hobbies in her free time. Although she is a busy mum of two little boys, she manages to make time for her oil paintings, makeup, design and singing.
Ms. Nicky La O.H.T
Nicky has a Oral Health Therapty degree with extended scope.
Her main areas of interests are treating children and Orthodontic treatments for both adults and children .
Shortly after meeting nicky ,you would feel like you're family .
Outside work ,Nicky loves spending time with family ,Friends and Her Dog.
Subscribe To Our News letter
We send out only useful suggestions, no spam!